THE GREAT WARNING OF GOD TO HUMANITY
---
WHAT WILL THE UNIVERSAL WARNING BE?
THE WARNING CONSISTS OF TWO VERY DEFINITE ASPECTS, THE COSMIC AND THE SPIRITUAL.
First a Cross will be seen for a few days in the firmament, then the cosmic phenomenon will take place, which means that the sky will darken before the almost blinding light coming from God. It will be as if two stars collide on high and the light illuminates even the darkness. This will cause fear, that Light will form an extremely bright Cross that the human creature will not be able to stop looking at.
This momentous event for mankind has not occurred before in the history of mankind. The NOTICE is to live the absence of the Holy Spirit, it is the absence of that fullness with which we live undeservedly.
The NOTICE will last more or less 20 minutes, which will seem longer. The experience of this act that God allows will be lived whether the human creature wants it or not, it is a great test coming from the Mercy of God, it will be a particular judgment, where the conscience of each human creature on Earth will take its place and will judge itself, it will look at its life in all aspects: the good acts, the bad acts, what has not been done, the omissions committed, absolutely every work and act will be looked at and felt with full conscience.
The human creature, in looking at himself, will look at all his sins as in a movie, he will experience the pain and the consequences of each fault committed, not only the consequences on a personal spiritual level, but also the influence of our faults on other people.
The Warning, is the last Merciful effort of God so that the human creatures become aware of how sin offends God and by free will the children of God move away from Eternal Salvation and fall into the nets of the Devil. After this time of inward examination in the spirit, each one according to his conscience will merge with his Lord and his God or will give himself into the hands of the Devil, being persecutor of his own brothers.
The Warning has taken off at this time, since it has been unknown to a great part of humanity, until Heaven has been revealing to His instruments since time immemorial this great event of Divine Mercy so that the greatest number of souls may be saved. 
 
Some of the Messages given by Jesus and Mary Most Holy through chosen souls throughout time explain or make known some details about the nature, about the effects it will have on mankind and the time in which this great Notice from God to mankind will occur.  
 
It is worth mentioning that this knowledge is given to the chosen instruments in the form of inner locution, many times accompanied by visions or also in a mystical way, that is, experiencing the event in its human-spiritual nature, feeling in this way the effects that the Notice will produce, thus giving a knowledge in its real magnitude.
 
Many revelations of authentic seers about this great WARNING of God to humanity have been known for a long time, but it was in the Apparitions of Garabandal, where this theme began to spread in the five continents, being understood in a broader context. Let's see a brief synthesis of one of the most extraordinary Marian apparitions in history.
 
Garabandal is a small and humble village located in a mountainous area of northern Spain where the traces left by the presence of THE MOST HOLY VIRGIN MARY in the almost 3000 public apparitions between 1961 and 1965 to four girls between 11 and 12 years old, Conchita, Jacinta, Mari Cruz and Mari Loli, are still preserved today.
 
There were many messages and prophecies given to humanity through these girls, but it was the announcement of three great universal events that caused the greatest impact at that time.
 
These events have been announced by other visionaries and rectified in other Marian apparitions: THE WARNING, THE MIRACLE and THE PUNISHMENT or Purification.
 
According to the vision of the girls this chastisement will be as great as there ever was or will be on the face of the earth, it will affect all humanity, and for this reason the universal WARNING and the MIRACLE come before to prepare us and as a last opportunity for conversion.
 
The MIRACLE of Garabandal comes shortly after the WARNING to confirm to the world that the WARNING came from God and that there is no doubt about its nature.
 
The following are some comments made by the main visionary, Conchita Gonzalez, who was 16 years old at the time:
 
* That this WARNING is linked to a phenomenon of nature; that this name exists in the dictionary and begins with the letter "A".
 
* That the Notice is something that comes directly from God and will be seen all over the world at the same time.
* That it will be as an accounting of our sins and will be seen and experienced by believers and non-believers alike and by people of all religions.
 
* That the Warning is like a purification to prepare for the Miracle.
 
* That it is also a kind of catastrophe, which will cause us to think of the dead, i.e., that we would rather be dead than experience the experience of the Warning.
 
* That this Warning will be a correction of the conscience of the world, and those who do not know Christ, that is, those who are not Christians, will believe that it is a Warning from God.
 
* That the most important thing about that day is that all the people of the world will see a sign, a grace or a chastisement within themselves, in other words, a Warning.
 
* That they will find themselves completely alone in the world at that moment, wherever they are, alone with their conscience and before God. They will then see all their sins and what their sins have caused.
 
* That each one will feel this event differently because it will depend on the conscience of each one, since the sins of one person are different from those of another.
 
* The Notice will be linked to an astral phenomenon, as if two stars collided with each other; that this phenomenon will not produce physical harm, but it will frighten us, because at that precise instant we will see our souls and the damage we have done; it will be as if we were in agony, but we will not die from its effects, although it is possible that we will die from fear or from the impression of seeing ourselves.
 
These revelations given in that small village coincide with so many others given throughout time all over the world, being able to confirm that this WARNING will come as a last bell for humanity, which will be submerged in a deep planetary crisis.
MYSTICAL EXPERIENCE OF LUZ DE MARIA ON THE WARNING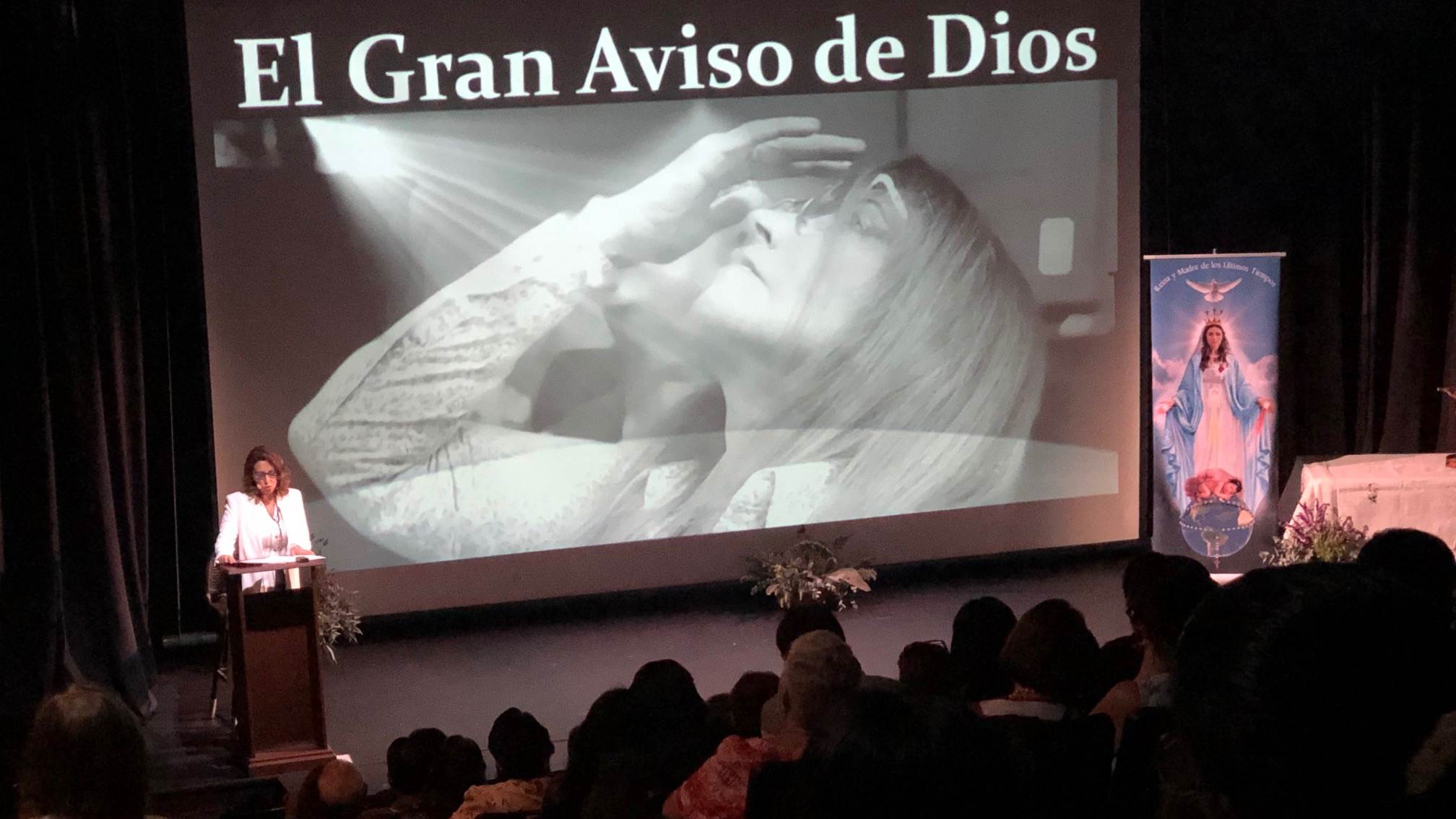 The following is the story of the seer, Luz de Maria de Bonilla, who has been receiving these messages for over 30 years from Our Lord Jesus and Our Blessed Mother, prophesizing and warning humanity about dramatic events, many of which have been fulfilled with exactness.
The following is the story that she conveys to us regarding her personal experience of what the Universal Warning will be like.
"In a very special way, our Lord has given me to understand that a comet will come near the earth, all of humanity will see it, which will create panic and compel many people to go to confession, but not for repentance.
In the sky there will appear a sign, "A CROSS" for several days, people with faith will feel the need to confess their sins, to repent; the remainder of the people will say that it was brought about by men and will turn against the Catholic Church, saying that it is a trick to frightened humanity.
In the midst of this confusion and an earthquake the WARNING will come, which Our Lord has permitted me to experience part of it during Lent of the year 2008, on Holy Wednesday, which I describe as follows:
I felt in my being anguish, as though something was coming closer to me, but I could not tell what it was…, like something frightful, something distressful that I couldn't figure out, though I knew something was going to happen. It was something that made my heart beat rapidly.
I was in this state for around 20 minutes; then the anxiousness began to increase, I started to feel as though my soul was leaving me, because little by little I felt a terrible loneliness that was not only filling my spiritual being, but my physical body as well. Then I felt a dreadful loneliness. The anxiety had me walking to and fro because each time the loneliness grew greater. I was totally aware that God was not in my being; my soul was desolated, anguished. I walked seeking consolation and could not find it; the loneliness, the emptiness was greater each time, until the point of feeling I was going out of my mind, my soul was left without God! And as in a movie, all the sins started to weave within me, perhaps the gravest that men could commit: I felt or I should say, was experiencing everything because I felt them as my own, I was living them. I felt what goes through the mind, through the heart, in the interior of the people who take their life.
I experienced the suffering moments before those who take their life; I experienced what a baby feels when it is being aborted; I experienced the abuses of the human beings that are outraged; I experienced the drug addiction, prostitution. All sorts of sins started to pass one by one within my soul. It was a terrible wretchedness, I felt in my mind that I could not leave the house, because God had abandoned me, I was living "THE TOTAL ABSENCE OF GOD". It is a terrifying emptiness, which nothing can fill; "here on earth men sin and repent, but the burden of the offense that sin causes is not felt because we have the presence of God."
I ambled desperately feeling God's abandonment, it was really terrible and then I remembered that my husband did have God, so I looked for him and found him in his bedroom and I said to him: !Please lay your hands on my head, I need you to pass God to me, because he has abandoned me! My husband, afraid, did not know what to do and asked me: What's happening to you? And I responded desperately: "I don't have God, He is gone, please, pass Him to me." My moans were actually coming from deep within my being and he asked me, "What prayer should I say?" And I responded: "Doesn't' matter what, just pass God to me. This was truly a devastating and bitter experience.
He prayed, but I still felt the emptiness. I think I was tempted by the demon to leave my house, get into the car and look for one of the priests, but somehow I knew that if I left the house, it could be fatal. And then I threw myself on the floor with my arms extended in the form of the cross and begged God to return to me. At that moment, my soul spoke to me! I knew it was my soul, and my soul said some words, that I kept repeating as she said them to me and I felt that the Holy Spirit was filling me. I started to feel invaded with a sense of peace that I have never before had experienced; a peace that satisfied, that fused me. My chest was bursting; then I felt something physical stayed within me; a presence that I still feel to this day and which surrounds my whole chest.
That's how the WARNING is going to be. That is why the people who have sins will be out of their minds, and the demon will be waiting, will induce them to take their life, to take them as its own spoils before the hour of mercy comes. The WARNING will be for those who are not with God be a terrible moment, unbearable in which they would end up placing themselves in the hands of the demon, who with its demoniac legions, will encircle the souls and accuse them of their sins in which they live and tell them that God will not forgive them.
For those who are lukewarm, it will be the moment of repentance, of grace, because when they understand their error, they will ask forgiveness and will convert, and for those who are in grace, they will be filled with the presence of the Holy Spirit.
We know that after the WARNING, those who do not believe will give it a scientific explanation, so that humanity will continue in error, sin will increase and there will be persecution.
From that day on my life has not been the same. God, during the WARNING, will make us aware of sin. I will never forget that day. I cried in those moments in which I did not feel God, I couldn't even think because the absence of God surpasses everything; I only felt emptiness and felt in my flesh the sins that came one by one, increasing the anxiousness and the loneliness.
At the time of writing this message and whenever I talk about it, I cry; I cry because even just the memory of it hurts so much, and I always ask Our Jesus not to let me feel it again, because I think I would not be able to endure it one more time.
This is my personal experience of the WARNING, the recording of this experience, of the suffering with Jesus. He has told me that "THIS IS WHAT THE SOULS WILL FEEL DURING THE WARNING AND IT IS ONLY A DROP OF WHAT HE LIVED IN GETHSEMANI FOR OUR SINS."
A similar experience is repeated when Luz de Maria receives a message from our Blessed Mother announcing the nearness of the WARNING. The following is her story:
The experience of the WARNING that I had through the message of Mother Mary a short while ago, was similar to the previous one; only that the former had such an intensity that each sin, which passed before me had its respective degree of offense to God, the pain that God feels and the burden towards all of humanity. It was a TOTAL abandonment of God, not only at a personal level, but at that same time I also felt the pain of the cosmos in general, to see God removed from Its Creation by the human will.
At that moment Jesus let me feel what we will experience during the WARNING: "THE ABANDONMENT OF GOD". NOT BECAUSE GOD WANTS IT, BUT BECAUSE IN THAT MOMENT GOD, RESPECTING THE FREEDOM OF MEN TO USE THEIR FREE WILL, WILL LET THEM SEE THE CONSEQUENCES OF THE ABUSE OF SUCH FREEDOM, SIN.
Both experiences are similar, however the one from Lent I know it came from the Blessed Trinity and the intensity was much greater, although in essence it was the same, and the one of the previous message came from the pain of Our Mother that according to my understanding, are only one, because the Blessed Mother is the Trinitarian precinct. That is why to distance yourself from God, is to distance yourself from the Mother. Both experiences have been very strong, but more so the first one, although I wouldn't want to experience either one of them again.
Perhaps due to these merciful experiences, is that I try and struggle not to fall into sin and I go to confession as often as possible and it hurts me to offend Our Jesus, because I don't want Him to find me offending Him.
FROM WHAT JESUS HAS TOLD ME REGARDING THE WARNING, THAT IT IS FELT TOTALLY WITHIN OUR BEING. THERE WILL ALSO BE A PART THAT WILL BE AT THE COSMIC LEVEL BECAUSE THE WHOLE COSMOS WANTS TO PURIFY ITSELF, BECAUSE IT HAS BEEN CONTAMINATED BY THE SIN OF MAN. THE CREATION THAT IS IN TOTAL CONCORDANCE WITH THE BLESSED TRINITY WANTS TO FREE ITSELF OF THE CONTAMINATION THAT MAN HAS INFLICTED UPON IT.
I know very well that Our Lord gives us always three opportunities, the third time that I will go through it will be the WARNING and I implore the Heavens above that I will be prepared for this grace.
After the two experiences regarding the WARNING, although as I mentioned before the first one surpasses the one that I shared with the message of Mother Mary; the vision and the experience always feel as it were the first time and perhaps because the one of 2008 was felt at the cosmic level; the one of today was more of the human level.
Whenever I see Jesus and He talks to me, it is as if it were the first time and I live it with great intensity. The same is with Mother Mary, each revelation is as if it were the first time; it is a total Divine love.
REVELATIONS
SAINT MICHAEL THE ARCHANGEL
03.17.2023
On the threshold of the Warning, human beings are celebrating together with the Devil....
What can await them other than repentance and conversion in order to save their souls?
THE WARNING IS NOT FAR AWAY...
YOU ARE RAMBLING ABOUT DATES, YET IT IS NOT FAR AWAY.
SAINT MICHAEL THE ARCHANGEL
03.03.2023
Pray, children of Our King and Lord Jesus Christ, pray, prepare for the great Warning.
SAINT MICHAEL THE ARCHANGEL
12.16.2022
THIS IS THE TIME OF PRIOR WARNING IN ORDER FOR YOU TO BELIEVE AND MAKE AMENDS.
OUR LORD JESUS CHRIST
12.09.2022
My people, not forgetting the WARNING, in which all humanity will participate, you must review your lives promptly and make reparation for evil committed.
THE MOST HOLY VIRGIN MARY
11.22.2022
You will see a great sign in Heaven, at which some of My children will be terrified, and believers will know that, being at war, the Warning is near.
SAINT MICHAEL THE ARCHANGEL
10.16.2022
THE WARNING IS NEAR, JUST AS WAR IS NEAR...
OUR LORD JESUS CHRIST
09.15.2022
PREPARE FOR THE WARNING, MY CHILDREN: be aware that you will be confronted with your actions and deeds. Repent!
OUR LORD JESUS CHRIST
08.22.2022
PREPARE FOR THE WARNING: examine yourselves inwardly, be humble, fulfill what I call you to fulfill and accept My Word with love.
OUR LORD JESUS CHRIST
07.30.2022
This is the time of the Signs preceding the Warning, and yet My People continue not to examine themselves, not probing within themselves and not seeing themselves without masks.
SAINT MICHAEL THE ARCHANGEL
05.07.2022
THE MAN OF GOD REMAINS VIGILANT. The earth will shake, the reddish moon announces the proximity of pain and of the Warning.
Love Our Queen and Mother of the End Times, when the Warning is rapidly approaching.
SAINT MICHAEL THE ARCHANGEL
05.07.2022
THE MAN OF GOD REMAINS VIGILANT. The earth will shake, the reddish moon announces the proximity of pain and of the Warning. Love Our Queen and Mother of the End Times, when the Warning is rapidly approaching.
OUR LORD JESUS CHRIST
04.22.2022
My People:

I WILL SEND A MERCIFUL GRACE FOR ALL HUMANITY SO THAT IT MIGHT BE RECEIVED BY MY CHILDREN WHO SO DESIRE IT.
THIS GRACE PRIOR TO THE WARNING WILL DESCEND FROM MY HOUSE; IT WILL BE GIVEN THROUGHOUT THE EARTH AND A MULTITUDE OF MY CHILDREN WILL FEEL GREAT PAIN AT THEIR OFFENSES AND WILL BEG MY FORGIVENESS.

ONLY IN THIS WAY WILL SOME OF MY CHILDREN JOIN MY TRUE CHURCH AND WALK TOWARDS ME IN ORDER TO SAVE THEIR SOULS.
COMMENTARY BY LUZ DE MARÍA
Our Lord Jesus Christ exhorts us to conversion, telling us: NOW! He invites us to keep our Faith robust and to be worthily prepared through the Eucharistic Food so that we would be guided by the Holy Spirit and take the safe path, not the wrong ones.
Divine Mercy reveals to us one more great blessing before the Warning, other than the Cross in the sky. This is one more opportunity for us to choose repentance when He will show us the rays of His Divine Mercy descending from Heaven to Earth, being a manifestation of the Divine Power so that we would bend our knees and so that more souls would be saved in the light of such a great demonstration of Divine Love.

Brothers and sisters, I share with you that Our Lord Jesus Christ appeared looking radiant. I saw many human beings on Earth who looked very small and bowed down somewhat by the weight of sin, but the light emanating from Divine Mercy made them look up, and I saw many human creatures crying out for forgiveness of their sins. Our Lord smiled, and stretching out His blessed Hand before the repentant sinners, I saw them bend their knees and then stand up, and they were no longer bowed down - a sign that they had been forgiven by Divine Mercy.
Brothers, this unfathomable mercy stands open in order to forgive… Let us draw near: it is not too late.
SAINT MICHAEL THE ARCHANGEL
04.09.2022
People on the move, THIS IS THE CRUCIAL MOMENT!
This is why I have insisted that you be prudent and not judge (Lk 6:37). Those who have been spared God's judgment thus far will not be able to escape their own judgment at the Warning.
OUR LORD JESUS CHRIST
03.23.2022
At the Warning, all of My children will judge themselves, firstly on love towards Our Most Holy Trinity and then on love towards their brothers and sisters, and they will judge themselves on each of the Commandments...
THE MOST HOLY VIRGIN MARY
02.24.2022
The Warning is approaching and you must be creatures of good, love and fraternity, repenting of your errors and beginning a new life. It is never too late: you are not alone, My Son protects you.
SAINT MICHAEL THE ARCHANGEL
11.12.2021
How many are waiting for the Warning without consciously reviewing their lives - every detail, act and deed they have committed with or without consent, in order to seek Divine Forgiveness and prepare themselves for the time of the Warning?
The Warning is the greatest act of Divine Mercy for this generation, during which you see yourselves in a particular way, when you will experience the value of your actions or omissions.
The Warning will be the moment of Divine Mercy and Divine Recognition for those who have sacrificed themselves and who have chosen to belong to the Most Holy Trinity and Our Queen and Mother.
DIVINE MERCY IS NOT FINISHED: IT WILL GIVE OTHER OPPORTUNITIES TO ITS CHILDREN AFTER THE WARNING HAS PASSED.
OUR LORD JESUS CHRIST
08.09.2021
PREPARE, REPENT, CONVERT!
My People, even some of you deny the Warning...
To deny the Warning is to deny that My Mercy is giving you an opportunity.
YOU WILL LOOK TO THE FIRMAMENT WITH FEAR AND WILL NOT KNOW WHAT TO DO. CALL UPON MY NAME AND SAY: HAIL MARY MOST PURE, CONCEIVED WITHOUT SIN.
Brothers and sisters, at the end of this Call Our Lord Jesus Christ spoke to me, leading me to see what He was saying to me:
My daughter, you must strengthen My People so that they would keep the Faith, so that they would be strong and firm.
I saw many brothers and sisters mocking the announcements that Heaven has given us and continues to give us.
He says to me:
This time is bringing you closer to the Warning and you must repent of the evil you have committed and the good that you have failed to do. You must prepare yourselves, examine yourselves and not lie to yourselves. It is urgent for you at this moment to look at yourselves without reserve and to repent.
I saw many brothers and sisters around the world repenting of their wrongdoings. But at the end I was allowed to see separations in families due to some denouncing others and causing them to be separated.
Then I watched as Our Blessed Mother poured water in the form of a gentle rain on the People of God and the sick were healed. Amen.
OUR LORD JESUS CHRIST
05.22.2021
This is the time when the son of perdition is acting through his vassals so as not to be seen. He knows that humanity is approaching the Warning and that in the face of the trials it faces and those it will shortly face, it is permeable to sin, and he is tempting humanity in order to cause you to forget about Me.
OUR LORD JESUS CHRIST
01.04.2021

The harvest is approaching - not the Final Judgment of the Nations, but of this generation, after the fulfilment of the Prophecies that have been decreed by Divine Will, not without first having granted My People the opportunity for conversion by means of the Warning.

SAINT MICHAEL THE ARCHANGEL
11.21.2020

The commemoration of the Birth of Our King and Lord Jesus Christ will not be as usual. Humankind's spiritual hunger, together with global upheaval and the shaking of the earth, will stir humanity to awaken. The signs and signals will increase and make it clear to you that the WARNING is approaching and that humans must acknowledge that they are sinners, repent and convert.
SAINT MICHAEL THE ARCHANGEL
08.19.2020

Beloved People of God, the coming time will be one of deception: do not go astray. This is why it is very important for you to pray with the heart, to prepare for the GREAT WARNING, and to be at peace.

THE MOST HOLY VIRGIN MARY
07.11.2020

Repent at every moment of your lives - REPENT AND MAKE AMENDS FOR SINS COMMITTED! IT IS IMPORTANT FOR YOU TO REMAIN AT PEACE GIVEN THE PROXIMITY OF THE WARNING, during which you will find that you are examining yourselves deep within, without a single sin, a single offense committed being allowed to pass without being examined.
For some it will be like a mere breath, for others a real torment from which they will feel that they cannot escape; for some it will be their reunion with My beloved Son, repenting for offenses committed.
For others, seeing the evil in which they have been living will be unbearable, and they will feel that they are dying without dying, because of which they will then rise up against the People of My Son together with the hordes of evil. This Act of Divine Mercy for souls must not come without your repeated self-examination, children of My Immaculate Heart. Do not stop: confess sins committed and sin no more.
SAINT MICHAEL THE ARCHANGEL
04.30.2019
This is the task of the People of God: to pray for one another, calling out for immovable faith, that which does not lead you to abandon Christ in pain, in trials, in difficulties, in the midst of persecutions, of massacres, of famines ... faith, faith, faith! We the Heavenly Armies cry out in human ears: "faith in God!"
The universe tests man, the sun is darkened and tests man. The water of the seas and rainwater test man, therefore faith must be immovable; the man of God is not disappointed. At this instant, humanity must prepare itself to move from one place to another in the face of the harshness of events.
Remain alert, the sacrifice pleasing to God is the one that hurts the most. In the Warning you will see yourselves as you are, therefore, you should not wait, convert now!
From the universe there comes a great unexpected threat to humanity: faith is indispensable.
Divine Love has revealed to you Its great Mercy by means of the "Miracle for the Americas": remain in peace, faith is indispensable. Our King and Lord Jesus Christ has given His Prophet the date for it in order to announce it beforehand, and so that those who can do so may go, since conditions will not be those of now, but faith must flourish in order to be healed, as must repentance of evils committed.
OUR LORD JESUS CHRIST
04.26.2019
Do not rest, be eager for conversion, prepare yourselves spiritually to face what is coming for My People, especially persecution, not only by those who do not believe, but by those of My children who, out of fear, for lack of faith, hand you over to those who do not love Me.
BELOVEDS, PREPARE YOURSELVES FOR THE WARNING: IT IS MY PATENT, TANGIBLE MERCY IN FAVOR OF HUMANITY, AND EVEN SO THERE WILL BE THOSE WHO BANISH ME MORE FORCEFULLY AFTER THE WARNING.
Humanity is not preparing itself, you are not exercising yourselves in the virtues in order to act in My Likeness (cf. Mt. 11:29), you are not putting yourselves in the instant when you will face the weight of your own conscience, that which in the course of your lives you have let go unnoticed or have not recognized as an offense against Me.
THE MIRACLE ALREADY ANNOUNCED AND THAT WILL OCCUR IN A SMALL TOWN IN EUROPE AND IN OTHER PLACES OF MARIAN APPARITIONS, AFTER THE WARNING, AS A SIGN OF OUR DIVINE AND PRODIGIOUS LOVE FOR HUMANITY AND SO THAT YOU WOULD HAVE THE CERTAINTY THAT MY LOVE AND THAT OF MY MOTHER ARE NOT EXHAUSTED.
BY DIVINE DECREE, THIS MIRACLE WILL ALSO BE GIVEN FOR MY CHILDREN OF THE AMERICAS ON THE HILL OF TEPEYAC, IN THE SANCTUARY OF MY MOTHER, UNDER THE INVOCATION OF OUR LADY OF GUADALUPE, EMPRESS OF THE AMERICAS, IN MEXICO, SINCE THERE IS A CLOSE RELATIONSHIP BETWEEN MY MOTHER OF GUADALUPE WITH THE COMING OF MY ANGEL OF PEACE TO HUMANITY.
THE SICK WHO ARE PRESENT IN THE PLACE OF THE MIRACLE WILL BE HEALED, THE SOULS THAT BELIEVE IN THE DIVINE ORIGIN OF THIS MIRACLE WILL RECEIVE GREAT BLESSINGS.
OUR LORD JESUS CHRIST
03.17.2019
BEFORE MY CHILDREN ARE EXAMINED PERSONALLY, YOU FIND YOURSELVES WITH THE BLESSING OF CHANGE IN FRONT OF YOU, thanks to the prayers and intercession of My Mother in order that the Warning does not find you unprepared. She is the Woman clothed with the Sun, with the Moon under Her feet (Rev. 12:1b), who in the silence of this instant has pleaded for this mercy for Her children, after which She will let the Hand of My Father fall on humanity. Thus, what is written and prophesied will be fulfilled, so that My faithful ones would not be lost.
THE MOST HOLY VIRGIN MARY
08.10.2018
Beloved children, examine yourselves, look within each one of yourselves and look for the instants when you went away from, offended, hurt, mistreated My Son, how you have grieved the Holy Spirit! and ask for forgiveness from the heart.

You have in front of you the constant Call before the Warning arrives, in order that it does not find you asleep. Being by Divine Order it will not be able to be explained by science. It will be a great enigma that all men will recognize as coming from God, even those who are not believers.

Beloved, seconds before the Warning, the Earth in its entirety will be overtaken by silence and then all will be alone with God. The Warning is internal and personal, it will allow conscience to show you what your personal life and action have been. This, children, is an act of Mercy so that individually you reach the state where you see yourselves as you are, without dissimulation, without masks: as you are.

How have you lived?
In what state have you lived?
Are you creatures of good, are you love and are you truth?
What is the intention accompanying your works and acts? ...

THIS AND MORE IS WHAT WILL DETERMINE THE SUFFERING OF THAT INSTANT AND AFTER THE WARNING. With the Warning the end of evil will not come; on the contrary, those who see the evil in which they are living and do not repent will rebel against God, not accepting the sight of themselves with so much evil inside.
THE MOST HOLY VIRGIN MARY
03.31.2017

THE INSTANT IN WHICH YOU WILL BE EXAMINED BY THE SAME LOVE YOU HAVE GIVEN AND THAT YOU HAVE, IS DRAWING NEAR. You will see, you will live and experience, you will suffer for your bad deeds, and the lamenting will be fierce. However great and unthinkable the sins committed may be, you carry the Divine imprint, therefore I call you to repentance in order to save your soul.
 
Beloved, loneliness will invade you and will penetrate your very bones, you will experience true solitude, that which you have never experienced before; you will examine yourselves. You will live and experience the pain for every offense committed against the Divine Will as if you were doing it at that very instant, with no one to defend you, not even yourselves. My Heart grieves over My children. After the Warning has passed, some will rage against God and cruelty will be greater toward My children.
OUR LORD JESUS CHRIST
08.06.2016

Children, My People, DO NOT CONTINUE THINKING THAT THE WARNING WILL NOT COME, IT IS AS NEAR TO YOU AS YOU REMAIN NEAR TO SIN.
Each one of you will live instants of spiritual solitude; I will allow you to see yourselves throughly. In that solitude you will see yourselves as you truly are. Horror will take hold of you, desolation will be lived, not felt, but lived by each one of you. It is necessary for My children to see themselves within, to see their work and actions, so that they seek to fulfill the Divine Commands. You will see how fire approaches the Earth and the Earth will be shaken for some instants; silence will be the scourge for many souls.

THE MOST HOLY VIRGIN MARY
06.21.2016

Children, do not misuse intelligence through personal gain. IN AN INSTANT YOU WILL FIND YOURSELVES FACING THE GREAT WARNING AND, AT THAT INSTANT, ALL OF YOUR IMPROPER ACTS AND WORKS WILL BE THERE BEFORE EACH OF YOU, IN THE SILENCE OF THAT INSTANT WHEN EACH ONE WILL BE BEFORE HIMSELF. The silence in which you personally examine your conscience, the silence of the personal verdict, is the greatest silence you will have ever experienced. The solitude in which the least act will be felt in the personal scale, for better or for worse, will seem interminable. The WARNING is Divine Mercy if, after the Warning, the human creature repents and does not listen to the voices of those who, full of wickedness, refuse to accept what they have seen in themselves and rebel against God.

OUR LORD JESUS CHRIST
04.19.2015

I come to make you look at yourselves in the middle of so much wickedness, and each will see how much evil has penetrated in him. Then the men—seized with pain and anguish—some will return to Me, and others, using their free will, will give themselves to evil, thus becoming instruments that will torture My People.

I come to each human creature to make him see himself. No human being on Earth will escape from himself. It will be fear and need that will lead humanity to face itself, from within, without omitting a single act committed by each human being.
OUR LORD JESUS CHRIST
02.16.2010
My Mother has announced to you throughout the whole world and through time, what today, YES is to come. I do not call you out of fear, rather out of LOVE. In the same way I gave myself for you, I will come with My Mercy to you internally, you shall see your actions even though you do not want to see them; you will feel the offenses even though you do not want to feel them. It will be a WARNING, within each human being; you will be alone with Me. This is the Love of the King that doesn't want his own people to be lost, and He goes forward with His plan.
I have trusted you with My Word. Announce it to your brother without fear. Today My People are heroes, courageous men who give their life for Me. My People know they struggle against the mundane; My people are enslaved and need to stand firm on its feet. That is why I won't leave you alone, that is why I will come and those who have not believed, will be put to shame.
THE MOST HOLY VIRGIN MARY
10.15.2009
I CALL UPON YOU TO TELL YOU NOT TO BECOME WEARY OF GIVING TESTIMONY OF THE DIVINE LOVE THAT DWELLS IN YOU. TRUST IN GOD, IN HIS MERCY AND YOU SHALL SEE HIS GLORY.
This is the moment to get on your knees; pray, pray and do not falter, because My Son will give you a great WARNING, prepare yourself for this great day of Mercy; prepare yourself because the evil one will be ready to ensnare the lukewarm that do not remain fortified.
My Little Children: you know that you have in your hands the key that will help you defeat all battles. THIS KEY IS "LOVE"; be living witnesses of the love of My Son; promptly repent, that this moment will not find you in sin. Many of your brothers will despair this day upon seeing the state of their sinfulness. Each one of you, My beloved children, will be alone with your conscience, each will be alone with their own spiritual state...
THE GREAT CROSS THAT WILL BE SEEN IN THE SKY BEFORE THE WARNING
"Then will appear the sign of the Son of man in heaven. And then all the peoples of the earth will mourn"
Matthew 24:30
OUR LORD JESUS CHRIST
09.18.2017

I HAVE ALREADY DECLARED TO YOU THE URGENCY OF PREPARATION FACING THE PROXIMITY OF THE WARNING, IN WHICH EVERYONE WILL BE ALONE FACING THEIR OWN CONSCIENCE; THE ACTS AND WORKS OF YOUR LIFE WILL BE REVEALED, EVEN THOSE THAT YOU CANNOT REMEMBER. This personal purification is necessary for you to properly face the future development of Humanity. Not everyone will believe in Me after the Warning, although this will be My Great Act of Mercy for all Humanity.
DAYS PRIOR TO THE WARNING AND BEFORE YOU SEE MY CROSS IN THE SKY, YOU WILL SEE FOR ONE DAY THROUGHOUT THE PLANET A GREAT SIGN THAT WILL TELL YOU THAT THE WARNING IS ALREADY UPON YOU. YOU WILL SEE A CIRCLE IN THE SKY AND FROM THE CIRCLE A RAY OF LIGHT WILL DESCEND THAT WILL NOT TOUCH ANYONE, AND THAT NO ONE WILL BE ABLE TO TOUCH.
THIS SIGN IS ONE MORE GRACE FOR YOU THROUGH THE INTERCESSION OF MY MOST HOLY MOTHER.
OUR LORD JESUS CHRIST
14.02.2019
FROM MY HOUSE WILL COME MY MERCY AND FROM HEAVEN WILL COME THE LIGHT THAT WILL BE SEEN BY ALL MANKIND AND WILL FORM MY CROSS PRIOR TO THE DAY OF CONSCIENCE.
THE MOST HOLY VIRGIN MARY
09.17.2015
BELOVED CHILDREN, THE WARNING IS NEAR, THEN YOU'LL BE GIVEN THE PUNISHMENT. THE SKY WILL BE LIT WITH A CROSS THAT WILL SHINE MORE THAN THE SUN ITSELF.

OUR LORD JESUS CHRIST
09.14.2011
My Cross will show itself with power and glory in the firmament, promptly, and everyone will face his or her own measure. CONVERT NOW. My Mercy is infinite, I am forgiveness, justice, love. Do not doubt in coming to Me. Open the door of your heart and mind to Me. Get rid of the false idols that call you to fall away more and more every instant.

OUR LORD JESUS CHRIST
07.16.2011
Beloved, remain alert, a sign in Heaven will be seen by all, My Cross will shine through My Wounds and will illuminate everything for an instant. The sun will give great signs. What is incomprehensible for man will be reflected in Heaven, so that the one who does not believe, believes.

THE MOST HOLY VIRGIN MARY
10.24.2010
EMBRACE THE CROSS: When you see it in the sky you will know that the darkness is near. Do not fear because the light contained within the Cross will not cease. I will be a lamp in the heart of My children.
OUR LORD JESUS CHRIST
08.29.2010
My Cross is victory and it will shine in the firmament during seven days and nights. It will shine constantly. It will be a previous sign to all that My People await, and for those who do not believe, it will be a great confusion. Science will try to give an explanation to that which does not have a scientific explanation.
THE MOST HOLY VIRGIN MARY
05.03.2010
THE AWAITED TIME HAS ARRIVED, THE TIME ANNOUNCED, THE TIME WHICH IS NOT TIME. Already the Warning shows itself: fog will cover all the orb and an intense light that will be given off from the Cross of Love in Heaven, will let you know that it is time. The sun will hide and the ardor that comes from on high, will let itself be felt by all men in the flesh. There will not be a place where you can hide; all men will see and feel the ardor of the fire that comes from on high. And they will also see their internal state.